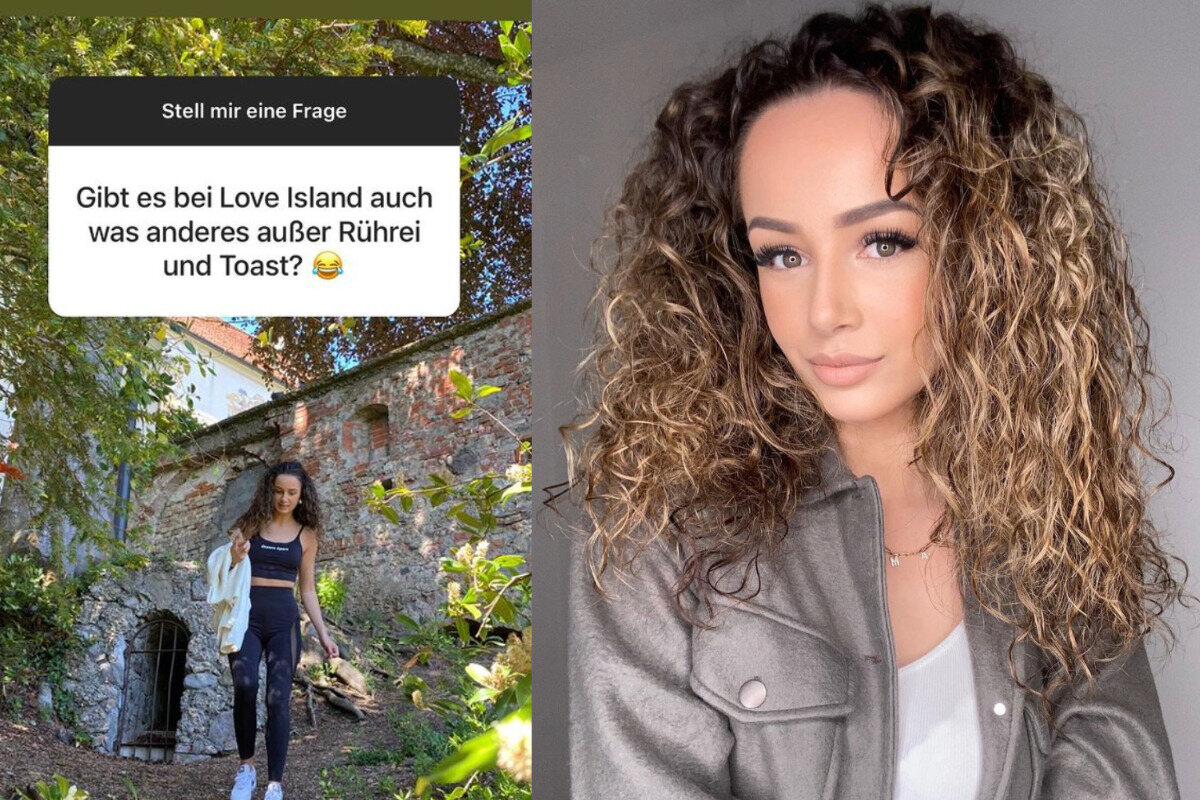 31.03.2021 06:48 48.325
Love Island: Ex-Kandidatin enthüllt, was wirklich hinter den Kulissen passiert!
Samira conflict 2019 bei Love Island dabei. Nun lüftet die ehemalige Kandidatin Geheimnisse hinter den Kulissen der beliebten Kuppelshow!
Hamburg – Auf den ersten Blick scheint die "Love Island"-Welt perfekt – doch hinter den Kulissen sieht es oft anders aus, wie Ex-Kandidatin Samira (23) jetzt enthüllt!
Auf Instagram stellt sich Samira (23) den Fragen der Followers.  © Fotomontage: Instagram/samira.bne
Wie in einem Puppenhaus leben die "Love Island"-Kandidaten 24 Stunden am Tag zusammengepfercht in der Villa. Privatsphäre Fehlanzeige. Streitigkeiten vorprogrammiert. Das Leben der Islander gleicht einer lustigen Klassenfahrt: Die Clique, bestehend aus intestine gebauten Männern und Frauen, genießt gemeinsam die Sonne am Pool, feiert, tanzt, treibt Sport oder kocht in der Gemeinschafts-Küche.Doch wie sieht es wirklich hinter den Kulissen der Kuppelshow aus?
Are You The One
Sophia Thomalla lässt Bombe platzen: "Are You The One"-Singles unter Schock
Auf Instagram hat Ex-Islanderin Samira ihren Followern nun einen kleinen Einblick gegeben. Die Hamburgerin nahm 2019 an "Love Island" teil und belegte mit ihrem Couple Yasin (30), der inzwischen ihr Ehemann ist, den zweiten Platz. In einer Story stellt sich die 23-Jährige nun den Fragen der Followers. "Wieso sieht man bei Love Island nie, dass jemand raucht?", will ein Person wissen. Und tatsächlich: Glimmstängel gibt es auf der Liebesinsel nicht zu sehen. Sind die Islander etwa alle courageous Nichtraucher? Nein. Vielmehr werden diese Szenen überhaupt nicht gezeigt, wie Samira verrät: "Die Raucher können für fünf Minuten vor die Tür gehen, um zu rauchen", stellt sie klar. Auch beim Thema Alkohol trügt der Schein. Während es aussieht, als würde die Bar der Islander nie leer gehen, sind die Portionen streng rationiert: "Es waren eigentlich nur drei Schlucke für jeden", packt Samira aus.
Die Hamburgerin lernte ihren Ehemann in der Kuppelshow kennen – die beiden haben einen gemeinsamen Sohn.  © Fotomontage: Instagram/samira.bne
Ein weiterer Nutzer interessiert sich für das kulinarische Angebot der Present. Ob es bei "Love Island" auch etwas anderes zu essen gibt, als Rührei und Toast, will er wissen. Intestine beobachtet: (Nutella)-Toast und Eier scheinen wirklich die Lieblingsspeisen der Kandidaten zu sein. Jedoch nur neben den zwei Hauptmahlzeiten, wie Samira aufklärt: "Zweimal am Tag haben wir auch etwas Warmes bekommen. Da sind die Kameras aber aus", betont sie und fügt hinzu: "Die Kameramänner brauchen ja auch Pause."Auch die vielen Tanz-Szenen irritieren die Zuschauer. Mindestens einmal am Tag gibt es in der Villa eine fette Celebration. "Sagen die Euch bei Love Island, 'so jetzt tanzt mal'? Weil die Leute da immer tanzen", stellt ein Follower fest.
Bachelorette
"Schocker-Second": Noch vor der Rosenvergabe schmeißt die "Bachelorette" jemanden raus
Die Ex-Kandidatin lässt durchblicken, dass es dafür die ein oder andere Regie-Anweisung gibt: "Kommt auch mal vor", deutet sie an.Samira gibt aber auch zu bedenken, dass von den 24 Stunden eines Tages am Ende immer nur eine gezeigt wird!