A youngster in India has found out a mass of bone, enamel and "bushy tacky subject material" in her stomach belonged to her personal "dual" who were rising inside of her.
The 17-year-old's stomach step by step greater in measurement over 5 years, with the teenager telling medical doctors she continuously felt complete even with out eating meals, in accordance a learn about printed within the magazine 
BMJ Case Reviews
. 
A CT scan revealing a big mass "corresponding to the form of vertebrae, ribs and lengthy bones".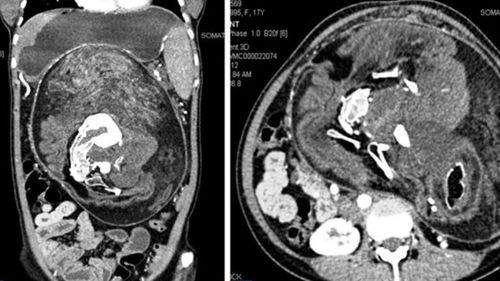 Docs identified the lady with an especially uncommon situation known as "fetus in fetu" – estimated to happen in handiest about one in each and every 500,000 other people international.
The mass is likely one of the biggest ever discovered and was once much more uncommon given the situation is normally identified in infancy or early adolescence.
This is just one of 7 circumstances of fetus in fetu recorded in an individual elderly 15 or older.
Docs had been compelled to surgically take away the mass, which was once "composed of bushy tacky subject material, a couple of enamel and buildings corresponding to limb buds". It additionally contained pores and skin and fats tissue.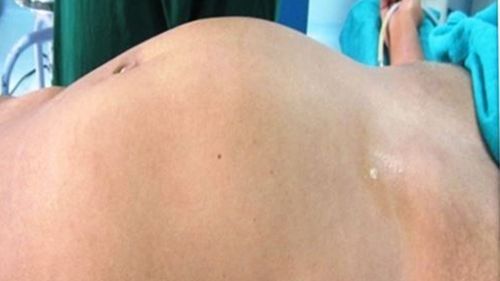 The mass was once about two-thirds the scale of a full-term child, alternatively now not all tissue might be got rid of because it had adhered too tightly to the vessels that provide blood to the gastrointestinal tract. 
There's a chance that the remainder mass may just flip cancerous, with the lady now required to go through a check-up once a year.
"I used to be a lot anxious about my belly lump," the teenager mentioned. "After operation I'm feeling rather well … and my folks also are more than pleased." 
The reason for fetus in fetu is unclear with a
2016 learn about
attributing the situation to 1 an identical dual being absorbed through some other all over early being pregnant.
Some other learn about claims the situation is a kind of tumour that may comprise all 3 of the key cellular sorts present in an early-stage human embryo.
(serve as()
var document = window.record;
var script = 'script';
var identification = 'facebook-jssdk';
var fjs = document.getElementsByTagName(script)[0];
if (document.getElementById(identification))
go back;
var js = document.createElement(script);
js.identification = identification;
js.src = "http://attach.fb.internet/en_US/sdk.js#xfbml=1&model=v2.2";
fjs.parentNode.insertBefore(js, fjs);
)();



Supply hyperlink